By Anna Trevelyan
I am by no means a natural runner. Roughly shaped like a turnip on little legs, I am the opposite of what you picture when you think of someone who runs.
I never thought I'd run. And I certainly never thought I'd be someone who would enjoy going for a run. But – trust me – if you become a runner it will change your life. And if I can do it then certainly so can you.
My excuses for being a non-runner
The sorts of excuses, from earlier on this year, which stopped me from running for 20 years included:
– I don't like running
– I am too embarrassed
– I don't have time
– I'll get too puffed out / I can't do it
– My chest/hair/feet will get in the way
– I look weird when I run
If, like me, you connected grown up fitness running with the forced cross-country events in the freezing cold at school then you need to separate the two. It's actually possible to love running, even though you may have hated it growing up.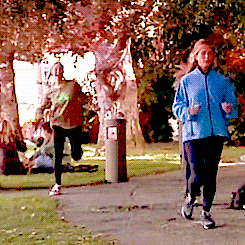 And yes I may look like an inelegant version of Phoebe from Friends when running, but you've just got to get over it.
No one looks good running (or almost no-one) so you've just got to let this go or it'll forever stand in your way.
Here's how all of the above excuses can be easily overcome, and how you can easily get to 2K in under 2 weeks and actually enjoy it.
First things first – before you start:
Support: Ladies – you NEED a decent bra. I'd recommend a properly fitted underwired sports bra with a racer back. Men – this includes you too. The only thing that should feel like it's bouncing when you run is your hair – so if you are moob-inclined then consider some supportive 'runderware' for both upstairs (and down).
Shoes: Now you really don't need to spend a fortune. But I'd recommend trying them on first as you want something lightweight yet supportive and well-fitting.
Music: Create a special playlist. Much as I love Adele, she has little (or no) place on my running playlist. Beyonce and Naughty Boy – Runnin' – is a bit more like it.
Phone: I'd recommend taking one with you. This helped me to feel less anxious about toppling in a ditch half way round and having no one to rescue me. Plus there are loads of free running apps to download to track your distance and progress, and you can use it to play your music. Buy running bottoms with a zippable pocket or pick up a jogging armband to hold it.
Quit: If you're a smoker, now is the time to stop. It's really difficult to be athletic when you smoke, and it's standing in the way of your success. Contact Quit4Life today on 01252 335120 for free help and medication to stop. You'll be surprised at how quickly your breathing will start to improve after ditching the cigs.
Try what works for you:
Decide whether you want to go alone or with a group. Both have benefits, but personally I prefer to go alone. I can barely speak anyway so it's not a social thing, and my app and tunes are all I need to spur me along. But by all means find what works best for you and stick to it.
To eat or not to eat? Experiment with both. I prefer to go early and eat afterwards, but others feel unwell if they run on an empty stomach. Try both and see.
Pick your route. I'd recommend starting with a short distance close to where you live. I found it really helpful to do a figure of 8 route – that way you can always nip home if you feel knackered.
Warm up. You could begin with a brief walk to get to your starting point, or do some stretching at home and the same afterwards. You'll find what works for you.
When I started running I only did it under the cover of darkness. This helped me to feel more confident in my own stride and I wasn't anxious about people laughing at me. This really helped me to get used to the new form of exercise and meant I quickly was able to move onto daylight. This is also a consideration if you have children or work – pick what works best and build it into your regime very week (even if that means getting up half an hour before the rest of the household and going for a run – trust me you'll feel great all day after doing this – not to mention just a little smug).
Any views expressed in this article are entirely my own and not necessarily those of my employer.
If you are unsure about embarking upon a new fitness programme always consult a medical professional and/or your Quit4Life Adviser beforehand.
***
Feeling inspired to start your smoke-free future?
Phone: 0845 602 4663 or 01252 335120
e-mail: quit4life@nhs.net